Managing a pet community properly takes a great deal of knowledge and experience. Communities can turn to the APA for the help necessary to satisfy both pet owner and non pet owners.
WhatsNew:
New PPC Sign


Better visibility, longer lasting.
Updated: August, 28, 2011
CurrentNews:
Going Local
The APA Community Pet Plan is going local! Look for an APA Community Representative in your area.
Updated: August 29, 2011
RecentEvents:
Planned Pet Communities

Sometimes you just need a plan! The APA can help your community be a better pet community, for the pet, the pet own and those who do not own pets!
Updated: August, 28, 2011
The Community Pet Plan!
The Plan is designed to allow pet owners to be a positive addition to their communities and to be sure that their pets are able to live within the community while;
1) Not being a nuisance or bother to area residents
2) Being safe and sanitary
3) Not having a negative effect on wildlife
4) Living humane, positive and happy lives
Resulting in;
1) Higher occupancy and retention rates for the community
2) More profitable community
3) Less friction among residents
4) Fewer distractions for management staff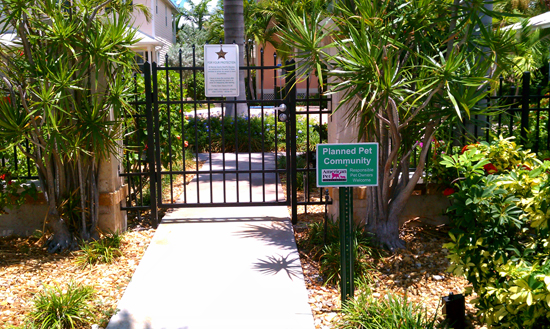 The Plan includes:
Pet owner responsible pet ownership agreement
Outlines proper training, treatment and social interaction with the pet
Non aggressive dog training
Area specific pet policy agreement - Customized for your community
Acceptable off leash areas (if any)
Waste disposal requirements
Interaction with other pet owners
Interaction with non pet owners
Dog barking policy
Cat containment policy (no cat should ever run free)
Non Pet Owner expectation information sheet
How to interact with community pets
Acceptable and non acceptable pet behavior
Acceptable containment policy
Pet waste stations

Plus APA Mediation Services

The goal of The Plan is to have pet owners live in complete harmony with non pet owners. When issues do arise we strive to identify the problem, offer solutions and enforce positive outcomes.

Pet complaints can be filed with the APA. The APA addresses the complaint with the pet owner and, if appropriate, helps the pet owner with corrective action or advises community leaders on what action to take.

The APA will mediate issues between pet owners and the community.

24 hour contact with pets owners to address potential issues (barking, running free, etc.)
APA Guardian Membership for Pet Owners
Every pet owner in your community will receive a Guardian Membership.
Trainers and behaviorists on staff for help with pet owning issues
Containment specialists for help with enclosure issues
24 hour pet recovery services to get lost pets home quickly and safely
Pet owning reference to reduce or eliminate pet deposits (after 1 year of membership)
Emergency boarding, transportation or medical care
Discounts at local participating veterinary facilities

The Community Pet Plan offers significant benefits to pet owner, non pet owning neighbors, the environment and the community in general.